Ideal Light Mount - JT
At long, long last I have the ILM-JT available- Ideal Light Mount- and "JT" stands for the Green Beret who suggested it.
If you want to run a laser, most if not all setups offered put it so far from the bore that zeroing it at X distance means that at any other distance closer or further, you'd better have your offsets memorized if you have a thread-the-needle shot to make. Some have the laser not only way too far above or below the bore, but also to one side or the other-- so now you have windage corrections to consider too. This all takes so much potential advantage away from having a laser.
And, if you want a laser on your AR, it's practically a given that you already have, or want to have, a light on it, or a second light. I think the Streamlight TLR-2 laser and light combo is a great AR15 accessory-- if mounted right.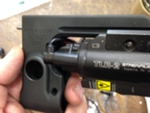 The ILM-JT mounts the TLR-2 (or Surefire X400) upside-down so the laser beam is as close to the bore as possible-- about 3/4". This means that if you have the laser zero'd at 25 yards, your point of impact will be 3/4" low at contact distance, spot-on at 25 yards, and 3/4" high or less at 50 yards. The unique mounting system holds the ILM-JT securely with an option for cross-pinning. 1/8" pins bracket your front sight base for perfect location at installation and subsequently they positively lock the ILM-JT in place. The trough on top of the rail allows an unimpeded sight picture with existing iron sights, and optional tritium inserts on the sides give instant night sights without going to the thick, hard to adjust front post. The ILM-JT is CNC'd from 7075 T6 aluminum and hard-coat anodized black. ILM-JT starts at $300.